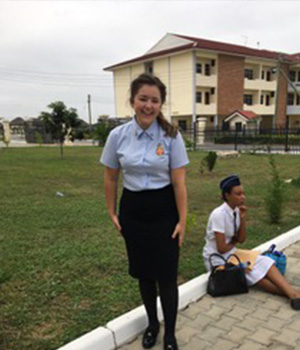 Girls' Brigade has transformed my life!  There is no doubt about it. I would not be the person I am today if it wasn't for my 15 years of service in the organisation. My confidence has excelled, and my personality flourished. I have gained leadership skills that I wouldn't have been able to gain anywhere else.
Joining at the tender age of 5, I was unaware that I was joining something so very special that would shape the person I have become. The leaders I have crossed paths with over my time as a girl have had such a positive impact on me, and as I complete my leadership training, I have high hopes that I too will have an equal impact on the girls I come across in the future.
It is an extraordinary organisation that provided a safe place for me to voice my opinion, and a place where my opinion is valued just as much as the next person. I am a young leader, but I feel lucky that I have a place in GB and that my voice is heard, valued and appreciated. It is a place where I can be respected. The organisation has taught me a variety of skills, like how to be creative and how to play a game of badminton, skills I know will come in handy in the future. It is a place where I can extend my faith but also have lots of fun.
I am lucky that the company I am a part of, 4th Coatbridge, is extensively supportive of me and my GB journey and have helped me in such astonishing ways to accept every opportunity that GB has thrown my way, whether that be my Queen's Award or attending The Gathering 2017 in Ghana. I am proud of the family I am a part of, for without it, I would be lost. The people I have come across are just amazing, and I now have made GB friends all across the globe from Africa to the Pacific. Girls' Brigade has extended my awareness of many global issues, and it is refreshing to be a part of an organisation which does its best to tackle such issues as a group.
GB raises hope and gives us hope for a better future. Being a young leader in itself is such a privilege, as we have the opportunity to make a positive impact on the young people of our generation. I am proud to be part of an organisation which has had such a positive influence on women and girls for 125 years to date, and I cannot wait to see what the next 125 years holds in this ever-changing, crazy world.
ROBYN PRYDE,
4TH COATBRIDGE COMPANY